Compound Metal Wallboard-Wooden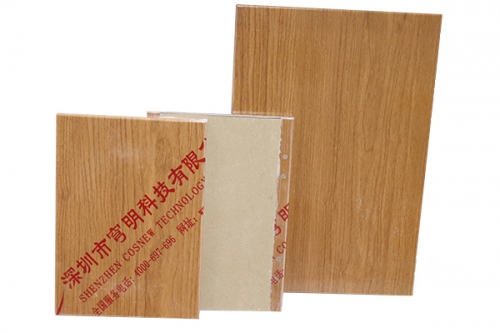 Compound Metal Wallboard-Wooden
Product features
Transportation and installation
Material
PVC-coated Steel Panel (also VCM panel) which is coated by PVC membrane in high temperatue. Both sides of the products are of good performance of anti-arrosion,anti-acid and chemical medicine resistant etc,preventing the steel panel from contacting the water and air.It is an ideal decorative products in modern society.
Filling:Use world-class brand gypsum board

Qualifications

?Fireproof:

Grade A of GB 8624-2012 Classfication for burning behavior of buiding materials and products

?Sound Absorption:

Through the national GB / T 19889.3-2005 / ISO140-3: 1995 "acoustic building and building components noise measurement Part 3: laboratory noise measurement of air-conditioned building components" test, weighted sound-proof volume of 45dB.

?Formaldehyde:

Refer to the national GB18584-2001 "interior decoration materials wood furniture harmful substances" test formaldehyde emission <0.1mg / L.

?Radioactivity??

Meet the national GB 6566-2010 Class A decorative materials requirements, radionuclide limits

Features

?Variety: It can be matched with different patterns in differenrt places.And there are more than one hundred wood patterns & designs and other patterns with modern sense for you to choose.

?Excellent processability:metal sheet and membrane have good ductility,being suitable for shearing off,blending,rolling & forming and punching.

?Dustproof and germ resistance:membrane and metal plate are isolated from air and moisture,with fungus resistant treatment,being the best material for modern decoration.

?Acid and alkali resistance:parent metal has good corrosion proof and acid and alkali proof,therefore it has excellent chemical resistance.

?Flame resisting:PVC high temperature membrane coated steel plate applies unique fireproof PVC membrane which belongs to antifoaming material,with fire retardancy up to Grade A2.

?Durability:membrane and metal sheet have good adherence,being able to stand the rest of of time,surface membrane is very easy in maintenancemwith great economic effect.

?Weathering resistance:membrane can be added with UV formulary to resist ultraviolet radiation,being able to be used outdoor without color change for long time.

?Environmental protection:the product is made of PVC membrane coated steel sheet,with surface convenient for cleaning,scratch resistance,being able to reduce maintenance expense and labor cost,featured with environmental protection and humanization.