Wire Mesh Cable Tray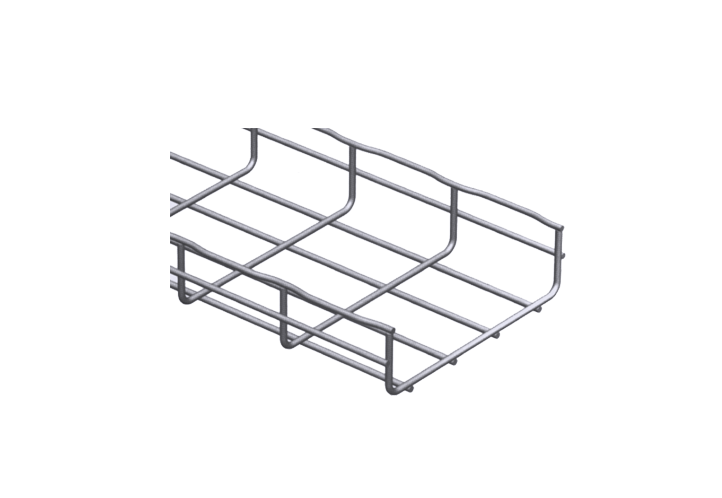 Wire Mesh Cable Tray
?Wire Mesh Cable Tray, also known as metal mesh cable bridge, suitable

for electric power and communiction cable wiring is as extension of the traditional bridge.

?Material: Q235B(carbon structural steel) steel mesh cable bridge/ 304 stainless steel mesh cable bridge/ 316 stainless steel mesh cable bridge/316L stainless steel mesh cable bridge.

?Electro-galvanized mesh bridge-- galvanized thickness of 10 um above, for indoor use.

?Hot-galvanized mesh bridge-- galvanized thickness of 60um above, for outdoor use.

?Electro-polished mesh bridge-- applicable to stainless steel surface treatment.

?Spraying-plastics mesh bridg

e-- a

pplicable to the site required for colors.
Product features
Transportation and installation
Size
?The size of the cable tray refers to the inte

rnal dimension



?Height

:

30mm/54mm/80mm/105mm /150mm
?Height:30mm&54mm Width:

50mm/100mm/150mm, 200mm/300mm/400mm/450mm, 500mm/600mm
?Height:

105/150mm,width:

100mm/150mm/200mm/300mm /400mm /500mm??
Qualfications
?Meet the standard of

JB/T10216-2013

Cable support system for electric control distribution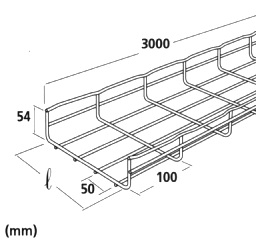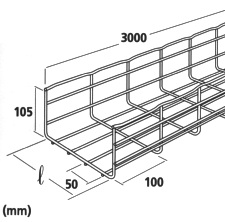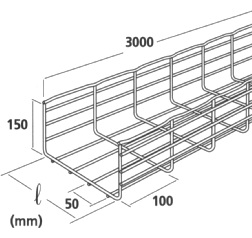 Features
?The cable bridge can be applied flexibly in the Generic Cabling System,allows outgoing of line from any point,is very easily connected with each type of mechanical equipment amd its outgoing points can be cahnged at will.Moreover,it is light and flexible and can be mounted on top, at bottom or peripphery of production equipment,easily run through various machines,mounted along the production line and assembly line and is applicable to vertical routing of wiring bridge.Its self-weight is only 1/5 of the one of traditional bridge.
?Durable,safe and firm.The mesh cable bridge is welded by high-quality steel wires.In addition to electro-galvanized and hot-galvanized surface treatment,high-quality decontaminated 304/306/316L stainless series mesh bridges and accessories are also provided.The Salt Spray Test indicates,the service life is three to four times of the untreated counterparts.Long durability can be guarantee even under harsh environment.Moreover,the overhaul of line and equipment is very fast and safe.
?The mesh structure provides good heat dissipation and effectively extends the service life and cable,The mesh cable bridge allows all ables visible and allows controlling the wiring engineering quality comprehensively.In the event of faults,faulted cables can be determinedquickly and corresponding measures shall be taken.Because of natural ventilation and heat dissipation of cable,the heat will not gather,and cables with smaller section surface can be used,reducing the purchase costs of cables.In addition,the high costs for secondary repeated investment are also saved.
?Safety operating temperature range of mesh bridge system:from

-40?? to + 150??.In this range,there are no any change characteristics.It has strong fireproofing performance,and the fireproofing performance can be also maintained for 90 minutes under the high temperature of 100 degrees Celsius,protecting the bridge safety.
?Rat prevention(changing the closed/dark/humid environment of old bridge to allow the rats to have no sense of safety)
Installation Features
?Easy & Convenient:All bends of mesh bridge??including 90 degree bend,Thead,crosshead,size variation head,etc.) can be generated through straight section cutting change.
?Variety of installation ways:Various top mounting,wall mounting,ground-mounting supports and accessories are available for selection,and no specially customized parts for bending,T-cock,Four-way cock,reducing,etc. are required.These special parts can be directly fabricated by use of straight section bridge and simple tools (cutting nippers) on the struction site,helping users shorten the design and installation time.In addition,such new structure can also better control cables and impove the system upgrading and maintenance capability,saving 2/3 installation time at least in comparision with the traditional bridge.
?Flexible and fast installation:bent at will ,beautiful installation by flexible combination with site conditions,mesh structure,minimized accumulation of dust,light and portable,save space,increase the load capacity of machine room cable to some extent.
?The load carrying capacity is 27% stronger than the traditional cable bridge and ladder bridger is made of high-quality steel wires with diameter of 4mm-6mm and configured in optimization as per the mechanicale principle.In addition,the welding machine specially sustomized is used for horizontal and vertical cross welding and side chord,top chord T type welding, so that each welding point can bear the tension of 500kg. T type welding avoids sharp end face of welding point,not only protecting the cables,but also ensuring the safety of construction and installtion personnel.The genneral clearance for support installation is 1.5mm and maximum span is 2.5mm.
?The wiring system and surrounding production envuironment are cleaner,more hygienic and beautiful.The cable are visible,so the cable shall be placed in sequence during construction,and the mesh bridge is of fine workkmanship,and can be pained various colors according to the customers' requirements.After installed,the whole system seems very lively,changing the depressed atmosphere highlighted by black or gray machine room.Another prevalent method is to use the bridge in natural color and colored cables.Because of open structure,the bridge is also very beautiful after installed.